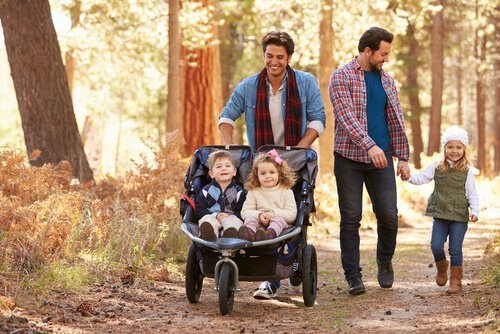 Gay rights have come leaps and bounds over the last couple decades, but one are that lags behind is adoption. Adopting a child is by no means an easy process even for heterosexual couples, but same sex couple adoption can be a nightmare. Without help, gay couples are unable to have children. Many gay couples chose a surrogate mother or father, but those that don't choose adoption. There are more than 100,000 children that need loving, permanent homes.
The biggest argument against same-sex adoption is the children will learn behavior they may not learn in a "conventional" home. Although, there are numerous studies to the contrary. This mostly stems from morals associated with organized religions. However, a recent court decision against a Mississippi ban on same sex couple adoption has made it legal in all 50 states. The ruling struck the ban down as unconstitutional. The precursor to this ruling was the ruling legalizing same-sex marriage.
Same-Sex Parents
An estimated six to fourteen million children in the U.S. have a gay or lesbian parent. And, between eight and ten million children are being raised in same-sex households. There have also been numerous studies conducted that prove a child raised in a gay or lesbian home isn't at risk.
Even with all this information and the legalization of same sex couple adoption, there are still challenges.
Same Sex Couple Adoption
All states now allow same-sex adoption. However, there are still some laws restricting fostering children. The biggest problem facing gay couples is the stigma. To adopt a child, you will have to sit with a social worker. These social workers have their personal biases and sometimes let them influence their decisions. The stigma attached to being gay makes it much harder to adopt a child. It is hard for gay couples to receive equal treatment in adoptions.
One challenge that same-sex couples face is custody proceedings following a divorce. This can be a tricky situation, and you'll want to consult an attorney for help. A lawyer can help. Having a lawyer that specializes in LGBT custody law helps. They can guide you through the process and help you avoid the pitfalls. Having someone that knows the law on your side can be a great asset. Susan Perkins has been at the forefront of LGBT law in Providence for years. Contact her today to see what she may be able to do to help.
The Adoption Process
These are the steps in the adoption process in Rhode Island
Step one: Attend an adoption information hearing. At these monthly meetings, presenters will explain the adoption process in more detail, and you will learn about the children who are waiting to be adopted. You can also ask any questions you may have. Applications to start the process are available at the meeting.
Step two: Enroll in a home study and adoption preparation class. These are eight to ten-week classes that meet once a week. The will prepare you for the task of fitting a new child smoothly into your home.  They will also let the home finder get to know you better and find a good match between you and a child.
Step three: Meet with a social worker in your home. A home study by a licensed social worker is required before adoption. The idea of the meeting is to get to know you better, not see how spotless your home is.
Step four: Complete the home study. After finishing your classes, the home finder may want to meet with you one more time to collect any homework or other paperwork from you. The social worker will then write your home study, a 12-15 page report on your family, lifestyle, and the kind of children you hope to parent.
Step Five: Wait for a match. This may take anywhere from a week to years depending on how flexible you are about the type of child you are willing to consider.
Step Six: Learn about the child. You will be presented medical history, background information, educational records, and professional assessments. The decide if you think the child is a good fit for your home
Step seven: Meet the child and begin visits. If you decided to proceed with the match, you would then start visiting with the child.
Step eight: Lastly, finalize the adoption. After six months of living together, you will have to go to family court and legally adopt the child.
In Conclusion
Finding a child to fill your home with love, shouldn't be a scary prospect. In the past is was much more difficult to achieve same sex couple adoption. With the great strides our country has made toward equality, the process has become easier. Although, you still may want some help. Seeking the counsel of an experienced adoption attorney is a good place to start. After all, you don't want to go through this alone.